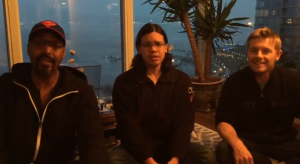 The legendary Joss Whedon gave a donation to the Kickstarter for "The Letter Carrier," a short film that involves the talents of Jesse L. Martin (Joe West), Carlos Valdes (Cisco), and Rick Cosnett (Eddie)… so how do they thank him?
By singing "The Ballad of Serenity," the theme song for Firefly, Gospel-style!
Enjoy… you can read more about how you can donate to "The Letter Carrier" Kickstarter campaign here.
(Also, how weird is it to see Joe West, Cisco Ramon, and Eddie Thawne all hanging out? Please don't go bad, Eddie!)