TV Line has a new Flash Season 5 still featuring Grant Gustin (Barry), Candice Patton (Iris), and their new TV daughter Jessica Parker Kennedy (Nora) as well as some quotes from Executive Producer Todd Helbing about the new season which starts October 9 on The CW.
Here's that photo; new spoilers follow.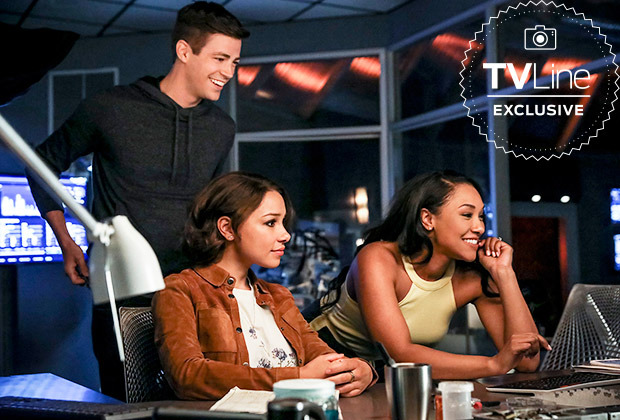 Some more spoilers from the TV Line feature:
The intentions of Cicada are different from the villains that have come before. "His endgame isn't about The Flash. It's more of a bigger-scale issue," Helbing told TV Line. "A big part of the story of this season [is about] the metas, where they got their powers from, and it's tied into everybody's journey this year," the EP shares. "Cicada's powers are different than DeVoe's [and] any of the speedsters in the way they affect our team."
Nora's presence will start to have a little strain on the Barry & Iris relationship "Iris and Barry become second to Mom and Dad," Helbing told TV Line.
Cisco is having trouble getting over his break-up with Gypsy.
Caitlin searches for her Killer Frost origins.
Ralph struggles to earn the respect of the city as a superhero.
The latest Wells to grace STAR Labs is "Sherloque Wells," who is described as "a master detective from a different Earth" who comes to help Team Flash take down Cicada. His detective skills irritate Ralph, and Sherloque will "get a lady love."
You can find the TV Line feature here. If you'd like to see FlashTVNews' interviews with the cast and producers about Season 5, speed on over to YouTube!