All's Wells in tonight's (November 14) episode of The Flash as we see a gaggle of Harrison Wells. (Wellses? Wellii?) Tom Cavanagh pulls multiple duty in playing these different characters, and last week on set, the actor spoke with press about what it was like to do something so "shameless."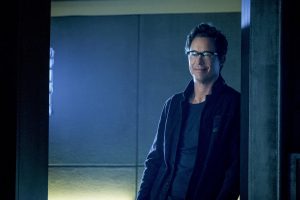 "This show will come and run its course, or it will be like Supernatural and never end, and, then it will all be done, but at least we will have this stamp of shamelessness," Cavanagh said.
"With the Council of Wells, I will always be able to point to that and go, 'look at this exercise in egotism that we managed to pull off.' Unfortunately, for Brent Crowell, who is our production manager, it was his first time directing this show. He got saddled with having to tolerate me not playing just one character, or two characters which I normally do, but playing a multitude of characters, each one worse than the next. But, only if you line them up that way," he continued.
In the interview, Cavanagh also talks about bringing back Harry, some of the other incarnations that we may not have gotten to see [yet], and he even teases a variation that we will be seeing in the future. Enjoy!
The Flash airs Tuesday nights at 8PM ET/PT on The CW. "When Harry Met Harry" airs on November 14.