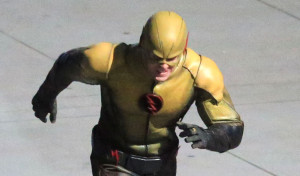 Only two days after the premiere, and if Facebook is any indication, The Flash is continuing to go viral.
Today's really big news comes from some photos that surfaced from recent filming, featuring Grant Gustin as The Flash battling… a Reverse Flash!
Flash Episode 9 is currently filming. A bit earlier than we all expected to see THAT, isn't it?
The photos first came online via Grant Gustin News and seem to be taken by Nigel Horsley for Fame Fly Net. We're not the types to take all of someone else's gallery, so if you like these, you can find more photos from the shoot at their site.
Flash vs. Reverse Flash