The Flash finally took advantage of the fantastic voices in the Arrowverse (and beyond) with this Tuesday's episode "Duet" which sees the characters in a musical setting and brings Supergirl's Melissa Benoist and fellow cast members from her show into The Flash's world.
My own personal review is being hosted at ComicBook.com, but beyond that: How about eight teases on what to look forward to?
Broken Hearts. Barry and Iris just called off their engagement. Kara recently learned that Mon-El had been lying to her for months. What better way to soothe a hurting heart than a musical? Bonus: There's even a flashback to Nora Allen (Michelle Harrison) and Barry watching "Singin' In The Rain" at the top of the episode.
There's No Place Like Home. While Barry and Kara are themselves in the musical, other characters may look like people they know, but they aren't. John Barrowman is a club owner/gangster with a son named Tommy, which I assume is an inside joke, even if not an intentional one. Victor Garber is also a part of that world, as are Carlos Valdes and Jeremy Jordan. Jesse L. Martin is there, too, but there's a surprise involved with that which should lead to a lot of amusement. There may be another character or two who exists in that musical world, but you'll have to watch and discover it for yourself.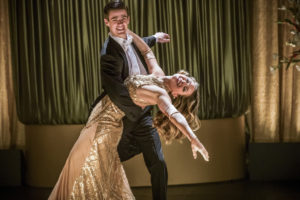 The Songs. Without looking it up, I'm assuming "I'm Your Super Friend" is the song written by Crazy Ex-Girlfriend's Rachel Bloom because it felt like it was right out of that show. Gustin and Benoist perform separately on some songs, but this one in particular highlights and takes advantage of their musical talent and chemistry together. "Runnin' Home To You" sung by Grant Gustin and written by the award-winning Benj Pasek and Justin Paul is the song to look for with the most emotional resonance.
A Musical Past Remembered. Caitlin brings up that she knows Barry has a great voice — a callback to that Season 1 episode where they did karaoke together.
Snow in Central City. Vancouver was getting a rare snow at the time of this episode's filming, so if you'd like to see what Kid Flash, Vibe, and the Martian Manhunter vs. a villain in the snow looks like, you'll be in luck.
Speaking of the Martian Manhunter… Other characters' reaction to him is fun.
Darren Criss! That's all that I need to say there. I'm surprised there wasn't a slushie joke.
Watch To The Very Last Minutes. Again, self-explanatory.
The Flash "Duet" airs this Tuesday, March 21 on The CW, with some setup happening in Monday's Supergirl. Photos from the Flash episode can be found below.