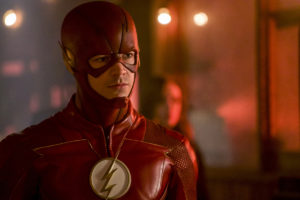 "Harry And The Harrisons" is the title of the May 8 episode of The Flash and a new trailer aired for it after The CW finished showing the episode "Therefore She Is."

Here's how The CW describes it:
THE TEAM TURNS TO AMUNET BLACK FOR HELP — With DeVoe's Enlightenment device nearly complete, in order to disable it The Flash (Grant Gustin) and his team must put their faith in an unlikely ally — Amunet Black (guest star Kattee Sackhoff). Meanwhile, Harry (Tom Cavanagh) hits an all-time low when the "Council of Wells" kicks him out but then Cisco (Carlos Valdes) introduces him to the "Council of Harrisons." Kevin Mock directed the episode written by Judalina Neira & Lauren Certo (#421). Original airdate 5/8/2018.
You can see the trailer and some official preview images below. If you've just finished "Therefore She Is" and want to talk about it with other fans, speed on over to our Flash discussion forum!