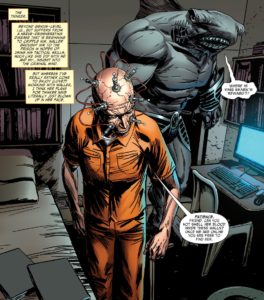 The Flash Season 3 was peppered with various references to someone named "DeVoe," and now we're going to meet the man they were talking about, as Clifford DeVoe, a.k.a. The Thinker, has been confirmed as the villain of The Flash Season 4.
The character, who has technology that gives him telekinesis and mind control, originally appeared in DC's Flash comics all the way back in 1943, where he faced the Jay Garrick Flash. Later comic book adventures involved him interacting with the Suicide Squad. The Season 3 Flash finale "Finish Line" mentions that a cerebral inhibitor was employed to try and stop DeVoe, though "that hasn't happened yet."
TV Line broke the news earlier this week. The Flash Season 4 premieres this Fall on The CW, where the show will remain on Tuesday nights.