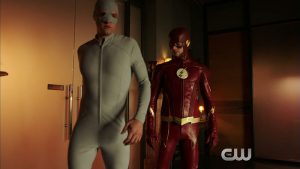 Updates to FlashTVNews this week were a little bit slower than usual as we were just on set getting some interviews for your viewing/reading pleasure… and because of that, we never did get around to posting the trailer for the November 14 episode of The Flash!
The title of the episode is "When Harry Met Harry" and the episode features a council of Wells. The trailer, however, focuses on Barry (Grant Gustin) and Ralph Dibny (Hartley Sawyer) as Ralph puts on his first costume as the Elongated Man.
If you want to see some official photos from the episode, stretch on over to here, but if screen captures are good for you, we have those courtesy of Mr. Video. The trailer itself can be found below the screencaps.