Flash Season 5 Blu-Ray Details & Extras Revealed
Details about The Flash: The Complete Fifth Season DVD and Blu-ray releases including extras and box art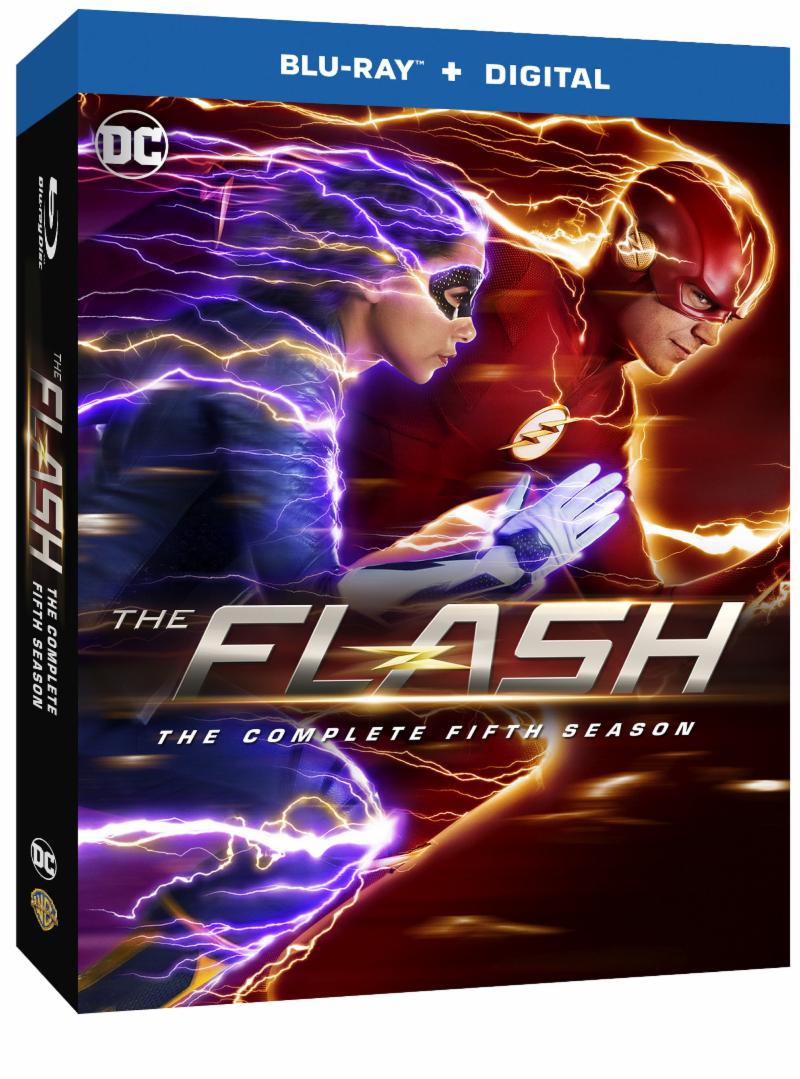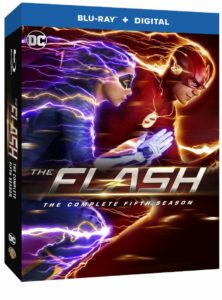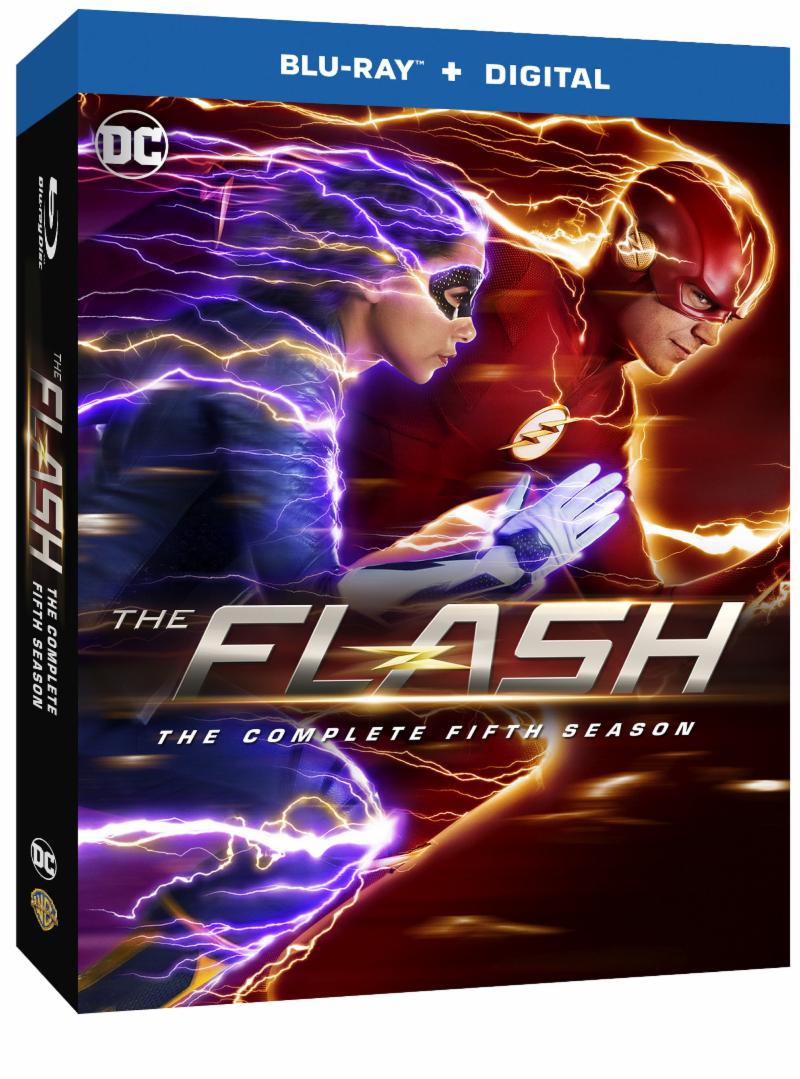 The Flash: The Complete Fifth Season is coming to Blu-ray and DVD on August 27 and we've got details and box art!
You can read more about it below; note the Blu-ray includes all chapters of the Elseworlds crossover!
Pre-order your set from Amazon.com and you'll be supporting this website!
#1 Series on The CW
THE FLASH:
THE COMPLETE FIFTH SEASON
Contains All 22 Gripping Episodes from the Fifth Season,
Plus a Crossover Featurette, 2018 Comic-Con Panel & Much More!
Own The Blu-ray™ & DVD August 27, 2019
Including All Three Episodes of the DC Crossover Event: Elseworlds Available Only on the Blu-Ray Set
BURBANK, CA (May 22, 2019) – Just in time for the sixth season premiere of the highest-rated series on The CW, you will be bolting into stores to pick up The Flash: The Complete Fifth Season as Warner Bros. Home Entertainment releases the Blu-ray and DVD on August 27, 2019. Fans will be able to speed-watch all 22 electrifying episodes from the fifth season, plus the show's 2018 Comic-Con Panel, three featurettes, deleted scenes, a gag reel and more! All three DC Crossover: Elseworlds episodes will be available only for fans who purchase the Blu-ray set. The Flash: The Complete Fifth Season is priced to own at $39.99 SRP for the DVD ($51.99 in Canada) and $44.98 SRP for the Blu-ray ($52.99 in Canada), which includes a Digital Copy (available in the U.S.). Both sets have an order due date of July 23, 2019. The Flash: The Complete Fifth Season is also available to own on Digital via purchase from digital retailers.
Shortly after defeating The Thinker, Barry Allen/The Flash and his wife, Iris, were stunned by the arrival of their already grown, speedster daughter from the future, Nora (Jessica Parker Kennedy). However, acclimating to their lives as parents won't be the only challenge they face, as Season Five pits Team Flash against Central City's latest scourge – the DC Super-Villain Cicada (Chris Klein).
"The Flash is currently The CW's highest-rated series, and after five strong seasons, The Flash remains a fan favorite," said Rosemary Markson, WBHE Senior Vice President, Television Marketing. "In addition to the 22 Season 5 episodes, fans can enjoy over 2.5 hours of special features plus 2 bonus Crossover episodes from Arrow and Supergirl on the Blu-ray release."
With Blu-ray's unsurpassed picture and sound, The Flash: The Complete Fifth Season Blu-ray release will include 1080p Full HD Video with DTS-HD Master Audio for English 5.1. In addition to featuring all 22 episodes from the fifth season in high-definition, as well as a digital copy of the season (available in the U.S.), the 4-disc Blu-ray will also include all threecrossover episodes, a tremendous value and collectors' opportunity.
The Flash stars Grant Gustin (Arrow, Glee), Candice Patton (The Game), Danielle Panabaker (Sky High, Friday the 13th),Carlos Valdes (Arrow, Once), Hartley Sawyer (Caper, Glory Daze), Danielle Nicolet (Central Intelligence), Jessica Parker Kennedy (The Secret Circle, Black Sails), and Chris Klein (American Pie movies), with Tom Cavanagh (Ed, The Following) and Jesse L. Martin (Law & Order). Based on the characters from DC, The Flash is produced by Bonanza Productions Inc. in association with Berlanti Productions and Warner Bros. Television, with executive producers Greg Berlanti (Arrow, Supergirl, DC's Legends of Tomorrow, Riverdale), Todd Helbing (Spartacus, Black Sails), Eric Wallace (Teen Wolf, Z Nation) and Sarah Schechter (Arrow, Riverdale, Black Lightning, Supergirl).
BLU-RAY & DVD FEATURES
The Best of DC TV's Comic-Con Panel San Diego 2018
The Evolution of Killer Frost
Inside the Crossover: Elseworlds
Villains: Modes of Persuasion
Gag Reel
Deleted Scenes
DVD: 22 ONE-HOUR EPISODES
1. Nora
2. Blocked
3. The Death of Vibe
4. News Flash
5. All Doll'd Up
6. The Icicle Cometh
7. O Come, All Ye Thankful
8. What's Past Is Prologue
9. Elseworlds: Hour One
10.The Flash & The Furious
11.Seeing Red
12. Memorabilia
13.Goldfaced
14.Cause and XS
15.King Shark VS Gorilla Grodd
16.Failure Is an Orphan
17.Time Bomb
18.Godspeed
19.Snow Pack
20.Gone Rogue
21. The Girl with the Red Lightning
22.Legacy
BLU-RAY: 22 ONE-HOUR EPISODES + 2 FULL CROSSOVER EPISODES
1. Nora
2. Blocked
3. The Death of Vibe
4. News Flash
5. All Doll'd Up
6. The Icicle Cometh
7. O Come, All Ye Thankful
8. What's Past Is Prologue
9. Elseworlds: Hour One
10.Elseworlds: Hour Two
11.Elseworlds: Hour Three
12.The Flash & The Furious
13.Seeing Red
14. Memorabilia
15.Goldfaced
16.Cause and XS
17.King Shark VS Gorilla Grodd
18.Failure Is an Orphan
19.Time Bomb
20.Godspeed
21.Snow Pack
22.Gone Rogue
23. The Girl with the Red Lightning
24.Legacy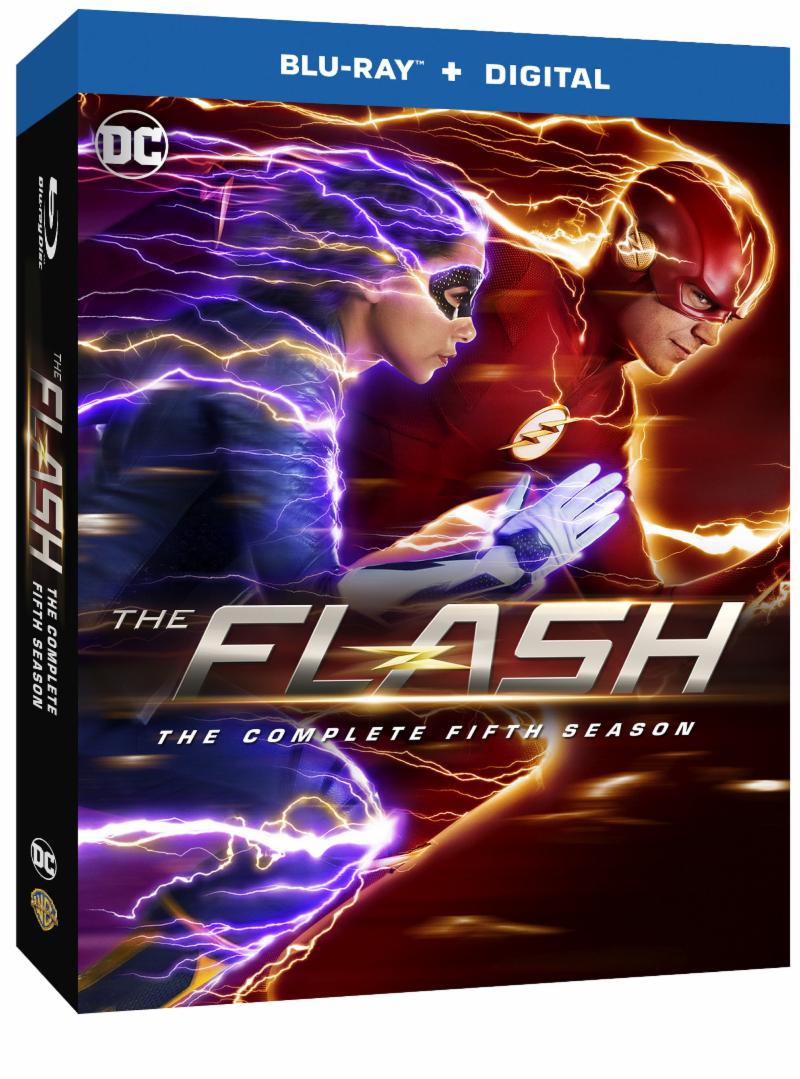 Speculation: Does The Arrowverse "Armageddon" Event Take Place In The Future?
FlashTVNews' Craig Byrne speculates that the "Armageddon" Arrowverse crossover may take place in The Flash's future…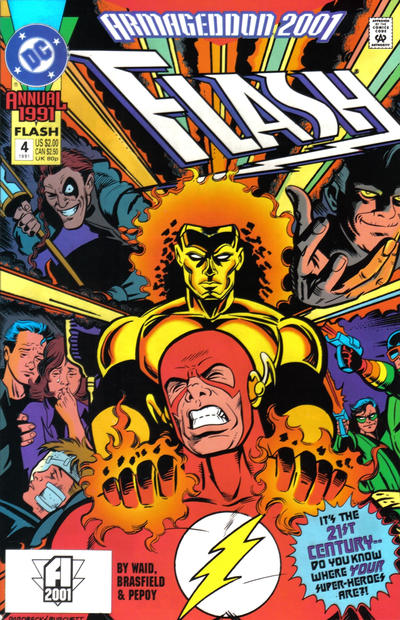 In 1991, DC Comics had a crossover that went through all of their comic book Annuals. The event was called "Armageddon 2001" and took place in the then-far future of the DC Universe. We got to see different outcomes for many characters, and the villainous Monarch was revealed to be one of DC's heroes.
Today, The CW announced this year's crossover event that kicks off The Flash Season 8. It's called "Armageddon" and some old favorites are back to join Barry, Iris, and Team Flash against whatever challenges they face – challenges that include Damien Darhk and Eobard Thawne/The Reverse Flash. Do note that both of those characters are known to travel through time — and that one of the returning heroes, Mia Smoak-Queen, is currently in the year 2040.
Who else is from the future? Recent Flash visitors Nora and Bart, the children of Barry and Iris. They were still in the present when we last saw them at their parents' vow renewal.
So, here's a prediction: What if this is an adaptation of "Armageddon 2001" but is instead "Armageddon 2051" or something like that? It would be a way to tie up loose ends like William's kidnapping from Green Arrow and the Canaries without actually having to see it. Likewise, we don't know for a fact that some of these guests are the 2021 versions; perhaps, for example, Black Lightning is an older Jefferson Pierce from the future, no longer retired?
But this also brings up another question: Where's the Superman & Lois representation?
If it is the future, could the Superman there be Jordan Kent? Or, like DC's recent "Future State" event which in many ways was like "Armageddon 2001" in previewing the future, a Jonathan Kent with powers? Being 20+ years older, it would necessitate a recasting for sure, so that would explain not being in the original announcement.
Surely, we'll know more between now and November when the event premieres. It is a bit weird that, if there is time travel, the Legends of Tomorrow aren't present aside from Ray Palmer who is no longer on the team. In any event, we're very, very curious….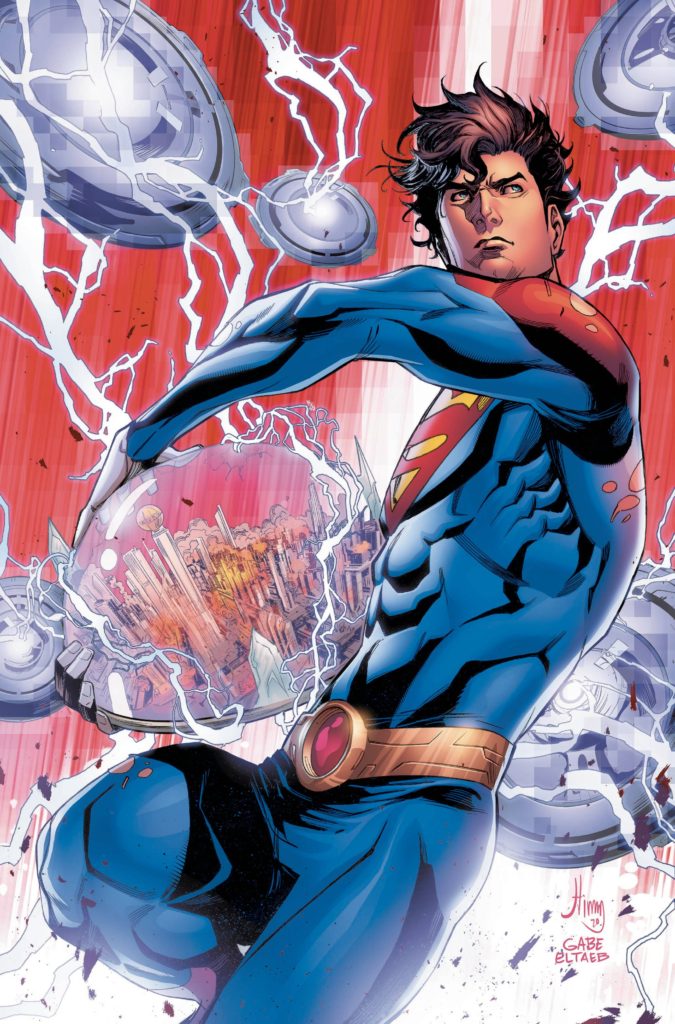 Flash Season 8 Event Details: Arrowverse Characters Return For Armageddon
Kat McNamara, Chyler Leigh, Brandon Routh, Cress Williams, Osric Chau, Javicia Leslie and more will be part of The Flash's "Armageddon" event.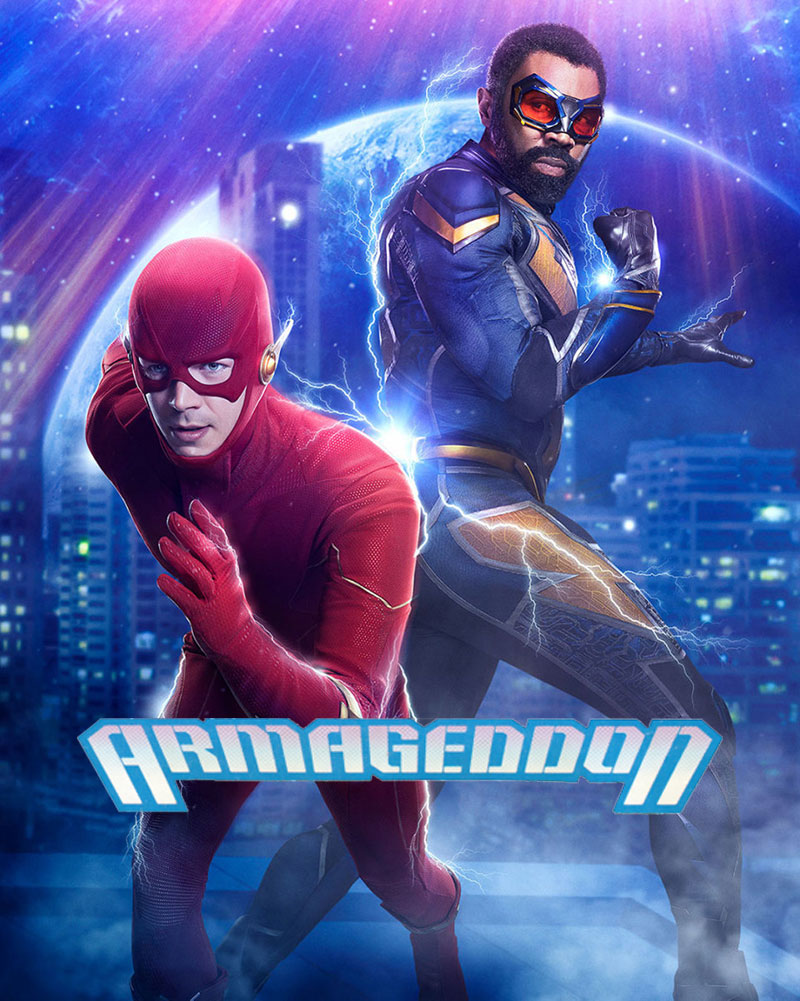 We've all known that The Flash Season 8 would begin with a five-part "event" — now, we know that the new season's crossover-like event will be called "Armageddon," and showing up in this event are some big heroes from across the Arrowverse.
In "Armageddon," a powerful alien threat arrives on Earth under mysterious circumstances and Barry (Grant Gustin), Iris (Candice Patton) and the rest of Team Flash are pushed to their limits in a desperate battle to save the world. But with time running out, and the fate of humanity at stake, Flash and his companions will also need to enlist the help of some old friends if the forces of good are to prevail.
Who's guest starring?
Javicia Leslie as Batwoman
Brandon Routh as The Atom
Cress Williams as Black Lightning
Chyler Leigh as Sentinel
Kat McNamara as Mia Queen
Osric Chau as Ryan Choi
Tom Cavanagh as Eobard Thawne/Reverse Flash
Neal McDonough as Damien Darhk
In some cases, this is the first time we will have seen some of these people in multiple seasons; it's also exciting that we will see Black Lightning and Alex Danvers so soon after the endings of Black Lightning and Supergirl.
Additionally, we will be seeing Mia Queen as played by Kat McNamara — last seen in the final episode of Arrow and whose spin-off Green Arrow and the Canaries did not go to series. Many fans have wanted to see Mia again, and here's their chance!
"Simply put, these are going to be some of the most emotional Flash episodes ever," Flash Executive Producer Eric Wallace said. "Plus, there are some truly epic moments and huge surprises that await our fans. And we're doing them on a scale that's bigger and bolder than our traditional Flash episodes. So yes, 'Armageddon' is a lot more than just another graphic novel storyline. It's going to be a true event for Flash and Arrowverse fans, old and new. Honestly, I can't wait for audiences to see what we've got planned."
The Flash Season 8 premieres Tuesday, November 16 on The CW. Follow @FlashTVNews on Twitter for the latest show updates!
Flash Finale Exclusive Clip: What Does August Heart Want?
Exclusive preview clip for the Flash season finale "The Heart of the Matter, Part 2" featuring Grant Gustin and Karan Oberoi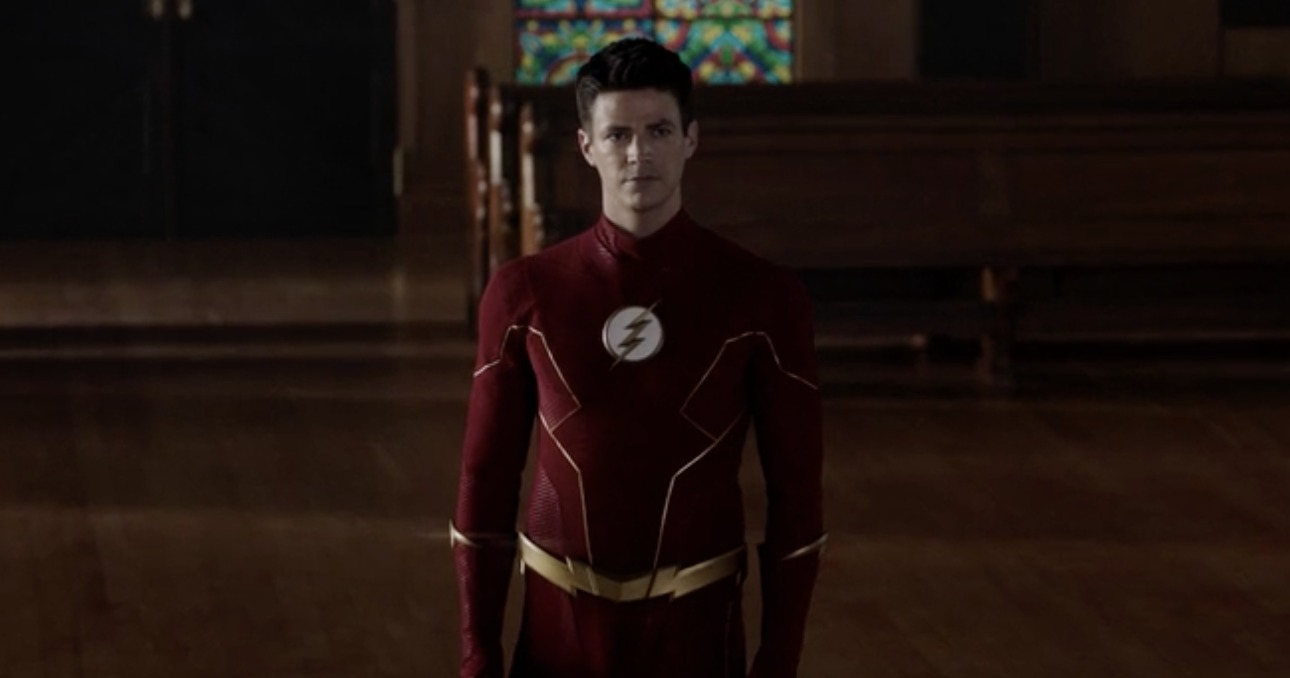 FlashTVNews has an exclusive clip from tonight's season finale of The Flash titled "The Heart of the Matter, Part 2." The episode airs at 8PM ET/PT tonight (July 20) on The CW.
The clip features a confrontation between Barry Allen a.k.a. The Flash (Grant Gustin) and August Heart/Godspeed (Karan Oberoi), where Barry wants to know what August Heart is trying to plan.
You can see the clip below; a description and preview images for "The Heart of the Matter, Part 2" can also be found underneath the clip.
THE FLASH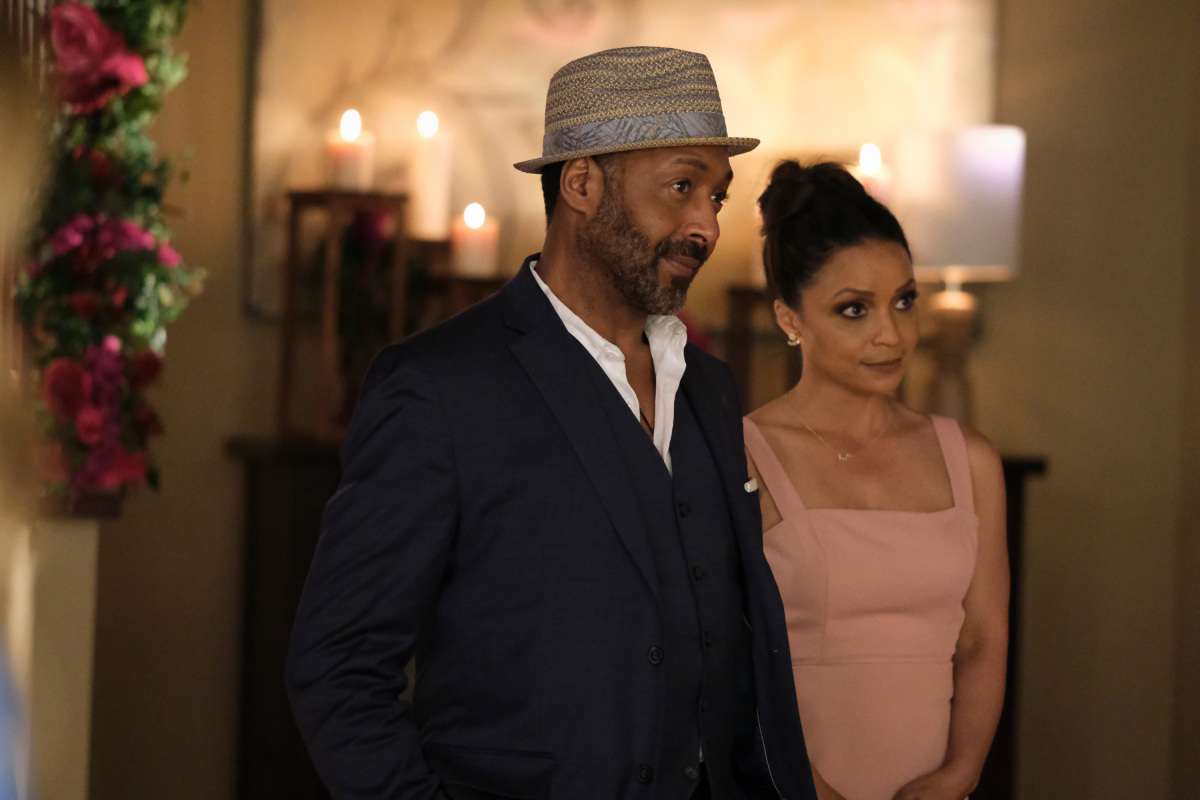 SEASON FINALE — The Flash (Grant Gustin) enlists a host of speedster allies, including Iris (Candice Patton) and his children from the future–Bart (guest star Jordan Fisher) and Nora West-Allen (guest star Jessica Parker Kennedy) — to end the speedster war and defeat a deadly new adversary: the villainous Godspeed (guest star Karan Oberoi). Marcus Stokes directed the episode written by Eric Wallace & Kelly Wheeler (#718). Original airdate 7/20/2021