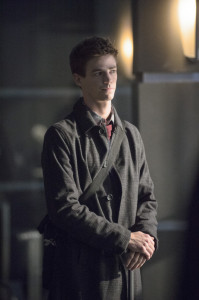 Grant Gustin makes his first appearance as Barry Allen in the new episode of Arrow scheduled to air December 4 on The CW. Following that, he will appear again on the December 11 show, and then, Gustin as well as Executive Producers Greg Berlanti and Andrew Kreisberg, Director David Nutter, and DC Entertainment Chief Creative Officer Geoff Johns will look forward to shooting a pilot for a full-on Flash TV spin-off that would likely premiere Fall 2014.
It will be the first time we'll see Barry Allen and his world in live action since 1991.
Many TV and comic book websites do "casting call" articles, and now it's our turn to hop in on the act. We're sure David Rapaport and his casting team will do a better job than we will, and we acknowledge that some of these choices may not necessarily be affordable or possible for a weekly television show on The CW, but dog gone it, we're going to try. Let's get started, shall we?
Disclaimer: If any of these casting choices actually happen we claim no responsibility; it is merely coincidence!
First up: Iris West! Pagination is below…