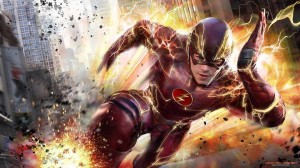 The Flash had a great year in its first season, debuting as the second-highest rated premiere in network history and continuing with universally positive reception throughout its run. It's a show that's redefined fun for superheroes, and as such, it's loads of fun to talk about it.
So, we're going to talk about it. Roundtables for Arrow with Team GATV have been going on since its first season, where the staff and guest contributors look back at the best and worst of the season and look forward to the future. Now that the Arrow universe has expanded, it only makes sense to delve into its hugely successful spin-off in similar in-depth fashion. Opinions are honest and frank, and we don't hold much back — but with multiple contributors, the views are also varied and hopefully diverse.
Participating in this year's roundtable: Craig Byrne, webmaster of FlashTVNews and the KSiteTV Network; Derek B. Gayle, writer of the weekly recaps and reviews of The Flash and Vixen; Matt Tucker, resident Arrow reviewer over on GreenArrowTV; and KSiteTV reviewer Stephanie Hall.
Today, we're going to look back at the premiere season. Later this week, we'll share our spoilery thoughts about what's to come in part two — all in time for the premiere next Tuesday! Keep in mind, this article is split over many pages, so be sure to navigate when you see that as an option!
What's your general opinion of The Flash's first season?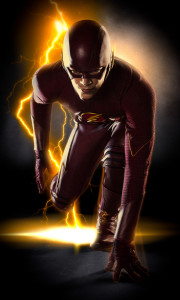 CRAIG: I've watched a lot of superhero TV, and almost every one of the shows has their own "thing" to make themselves unique, but what I love about The Flash is that it is probably the most unpretentiously comic book show that has ever been on TV. Rather than running from its comic book influences, it embraces them; and, by bringing in folks like John Wesley Shipp of the original Flash series, it seems to be a celebration of past comic book TV as well. (Big props go to them for all of their classic Flash love, especially in "Tricksters.") 
What was also great about The Flash, for me, is that the show brought us such a likable hero in Grant Gustin's Barry Allen. Here's a guy who has been through a lot of stuff yet still puts a smile on his face at the end of the day. He does right because it's the right thing to do. Even before he had his powers, he wanted to do the right thing. That's great. All of this is wrapped into a continuing narrative with characters like Harrison Wells keeping the questions coming. And the show gives us so many talented actors and characters. I can't say enough good things about this first season.
DEREK: It's my favorite show I've watched this year. It hits a really specific sweet spot — a colorful, optimistic, fun superhero show with heavy science fiction, but one that still has high stakes and smart storytelling. It's the tone I enjoy in Marvel movies and latter-day Smallville, but with more consistent writing and room to breathe over a long-term narrative.
STEPHANIE: I've been generally impressed with The Flash's first season, especially the way it can tell a standalone story in the same episode that it can give you all sorts of answers about Harrison Wells that you've been dying to know for months. I like that it fits in between the worlds of Arrow and early Smallville. 
MATT: To be frank, the show owns the superhero genre on television. And honestly, I think everyone knows it.  (Marvel and Netflix's Daredevil, though, currently wears the crown for the street vigilante subset of the genre.) There are certainly some "CW" aspects to the series, but this had some crossover appeal that even Arrow couldn't drum up. That got people to tune in who would normally ignore anything on the network because of its general focus or their preconceived notions of it. What's great, though, is that everyone was rewarded for giving it a watch.